The 2023 NFL free agency period had several big names come off the board in the opening days and other impact players following in the ensuing weeks. With NFL training camps in full swing, most of the names still available on the open market are veterans waiting for an opportunity to get some snaps on a one-year arrangement. But a few younger players also remain.
2023 NFL Free Agents by Position | Offense
For some reason, in a league that already doesn't seem to have enough competent OL play, the offensive line is one position where teams could still find some value this late in free agency. There are a few high-profile runners looking for a soft landing, but the money has completely dried up at the position.
Quarterbacks
Although there is a former MVP on the list of available free agent QBs and another who is only 30 — who was an MVP candidate a half-decade ago — nobody is finding their starter in this crop of free-agency passers.
1) Colt McCoy
2) Carson Wentz
3) Matt Ryan
4) Joe Flacco
5) Brett Rypien
Wide Receivers
If we were looking at this list a half-decade ago we'd need to consider a new set of denim trousers. The top name can still help an offense situationally, as can the second player from a slot role.
1) T.Y. Hilton
2) Denzel Mims
3) Jarvis Landry
4) Robbie Chosen
5) Julio Jones
Running Backs
Dalvin Cook's and Ezekiel Elliott's free agency status officially changed as of Monday — with the past Pro Bowlers now becoming AFC East rivals by signing with the New York Jets and New England Patriots, respectively. This now leaves only two intriguing options left in the RB department in two previous 1,000-yard backs.
1) Kareem Hunt
2) Leonard Fournette
3) J.D. McKissic
4) James Robinson
5) Caleb Huntley
Tight Ends
You won't find anyone on the market here to catch 40 passes for your team. And while box-score production is the most important facet of a tight end's game in the modern NFL, blocking still holds value. Most of the guys on the list that are available are blocking tight ends who will come in on 12 and 13-personnel snaps.
Those who are pass catchers are seeking a backup role — or perhaps as an emergency starter role if a No. 1 goes down this summer or early this season. Keep an eye on Sal Cannella, who's played well these past 12 months in the XFL and USFL. He might get a shot as a No. 2 somewhere.
1) Maxx Williams
2) Adam Shaheen
3) Richard Rogers
4) Tyree Jackson 
Offensive Line
Don't try to understand why Dalton Risner is still a free agent. You'll just end up looking like the meme of people with mathematical equations spinning around their heads. The other interior blockers on the list are of the backup variety, or they are at or approaching their mid-30s.
1) La'el Collins
2) Ben Jones
3) Rodney Hudson
4) Rodger Saffold
5) Austin Blythe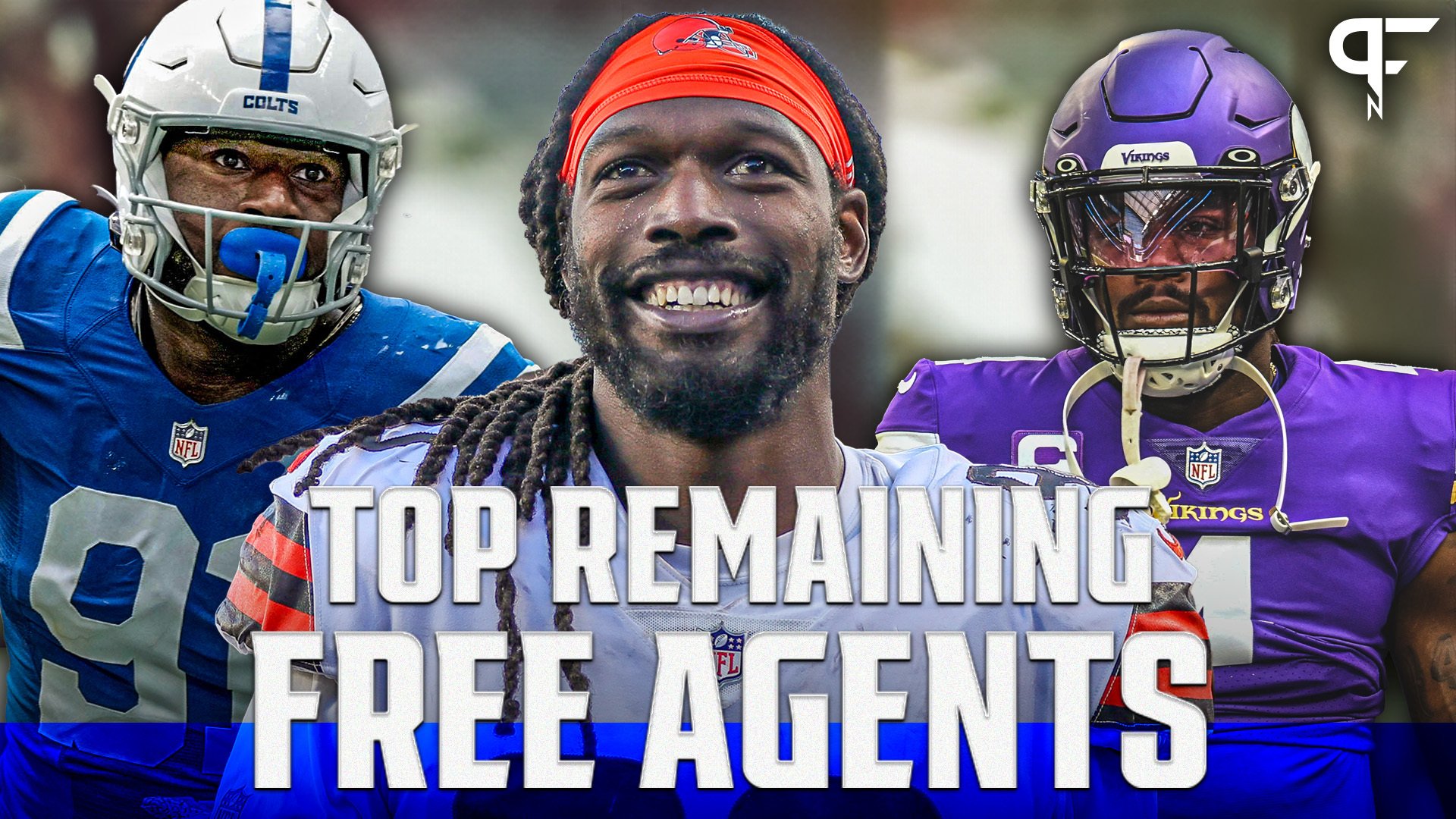 2023 NFL Free Agents by Position | Defense
Outside of some uncertainty in terms of pass rushers, there was some real game-wrecking talent available at all three defensive levels at the start of free agency. But like locusts in a cornfield, the top stalks have been picked. Nevertheless, several of these players can make immediate contributions in the right situation.
Defensive Line
Veteran defensive linemen being available at the start of training camp is nothing new. These distinguished gentlemen are pros waiting for the right opportunity to hop onto a continuing team and help in the pursuit of a Super Bowl.
As with the offensive interior, the defensive interior boasts quite a few elder statesmen who could contribute to the success of a run defense on a contending team.
1) Akiem Hicks
2) Linval Joseph
3) Ndamukong Suh
4) Chris Wormley
5) Christian Covington
EDGE
Yannick Ngakoue is no longer on this list having signed with the Chicago Bears. But this list doesn't change much, with the longtime No. 1 available still at No. 1.
1) Melvin Ingram III
2) Trevis Gipson
3) Robert Quinn
4) Alton Robinson
5) Chase Winovich
Linebackers
Zach Cunningham was once the top option available but has since joined the Philadelphia Eagles. Myles Jack was additionally on this list but is now joining Cunningham. Even Kwon Alexander was a top five possibility for team but is off to the Keystone State too, but with the Pittsburgh Steelers. So who's left?
1) Christian Kirksey
2) Kyle Van Noy
3) Cory Littleton
4) Jayon Brown
5) Jaylon Smith
Defensive Backs
In the right scheme, a few of the defensive backs on the list could be interesting playmakers. If they have stayed fit during the offseason and have not reached their physical limit, they should be good to go. Some of these still available options have made visits with teams in the past month.
1) William Jackson III
2) Casey Hayward
3) Bryce Callahan
4) Anthony Brown
5) Anthony Averett