Our 300-player Industry Consensus Big Board gives us a good read on how the 70 different analysts across NFL media feel about the players. But a pure ranking never gives us the full story. Having all of these rankings also gives us some texture on how differently draft experts approach the topic.
We've gone over which players have drawn the biggest disagreements across all 70 experts and which players are the most polarizing, but there's more to dig into.
There are broadly two types of draft boards out there in the media. We can call them "evaluators" and "forecasters," with the understanding that forecasters often leverage their own evaluation ability, and evaluators will take advantage of their resources to help forecast things.
What Are Evaluators and Forecasters?
In short, "evaluators" are draft analysts who rely primarily on publicly available information in order to evaluate draft prospects. That primarily comes from broadcast and film footage of players to break down their skill sets and talents while using public Combine and pro day data to contextualize athleticism as well as media reports on off-field issues or injuries to tag character concerns.
"Forecasters," often hew closer to actual NFL teams when it comes to aligning with draft slots, and they use their connections with teams and agents to mine data not generally publicly available to help construct their boards. It can mean that they do a better job of understanding why a player might "slide" in the draft, but it also opens them up to smokescreens from agents and teams — there's a push and a pull.
MORE: FREE Mock Draft Simulator With Trades
All categories are made up, but this one is especially made up. Many evaluators have established themselves well enough in the space to earn those connections, while forecasters often started out by doing deep film work.
Nevertheless, there's a strong history of correlated rankings among forecasters with limited player-to-player rank variance, and these broad categories can give us some useful evaluative tools for understanding why draft boards were constructed the way they were.
If there are character concerns, injury red flags, or other tests we're not aware of — like the S2, psychological tests, VO2 max, etc. — as well as performance in interviews, on the whiteboard, and so on, they can use that information to impact their grades.
Is One Better Than the Other?
Both approaches have strengths and weaknesses, and it's tempting to just "trust the film" or buy into every rumor one hears throughout the draft season. For the most part, when it comes to predicting where players will go in the draft, forecasters do a better job. But when it comes to predicting NFL performance, they'll be about equal.
For example, evaluators were higher on Amon-Ra St. Brown, Carl Lawson, Joe Haeg, Jamaal Williams, Joe Mixon, Wyatt Teller, and Parris Campbell, while they were lower on Sam Darnold, Mitchell Trubisky, Drew Lock, Christian Hackenberg, Jihad Ward, Leonard Fournette, Hunter Henry, Marcus Davenport, and Jonathan Abram.
On the other hand, forecasters were more correct when they were higher on Josh Allen, Jack Conklin, Shaquille Leonard, Leonard Floyd, Brian O'Neill, Jamel Dean, Rashan Gary, and Marcus Maye, while they were better off being lower on Reuben Foster, Hakeem Butler, Noah Spence, Derek Rivers, and Sidney Jones.
There may be a forecaster quarterback bias that pushes some of the more unpolished signal-callers a bit higher than evaluators would like, but otherwise, there are no solid positional trends. When they disagree, their NFL hit rate is about equal.
Which 2023 NFL Draft Prospects Do Forecasters and Evaluators Disagree On?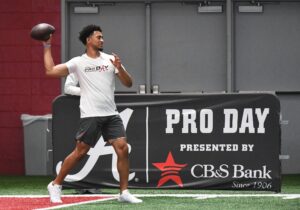 Bryce Young, QB, Alabama
(Evaluator Rank: 3rd, Forecaster Rank: 1st)
By pure point total, this is the largest disagreement of the group, even if it amounts to just a disagreement of two ranks. Nevertheless, the forecasters aren't convinced that Bryce Young's size is a problem, while the evaluators seem a little more skeptical. From a character and talent standpoint, there aren't many questions, so it comes down to how important those physical red flags are.
Myles Murphy, EDGE, Clemson
(Evaluator Rank: 18th, Forecaster Rank: 11th)
There's been a lot of movement for the edge rusher from Clemson. Early in the cycle, Myles Murphy was seen as a top-five draft pick, and now he's been going in the middle or even late portion of the first round. Murphy is ideally suited for his position from a size/speed perspective.
MORE: How To Watch the 2023 NFL Draft
Given that edge rushers are getting lighter and lighter, seeing a first-round talent at 270 pounds with all the requisite speed to play the position well pushes him up a lot of NFL boards and, therefore, some forecaster boards.
But evaluators are more concerned about how undeveloped his moves are for a first-round prospect and the fact that his results on the field — while spectacular — don't match that of an early pick at the position.
Cam Smith, CB, South Carolina
(Evaluator Rank: 34th, Forecaster Rank: 49th)
When evaluators are higher on a player than forecasters, the differences have been small this year. One of the few instances of a more dramatic disagreement comes with Cam Smith. He doesn't have the physical traits of some of the other first-round candidates at corner — he's lighter and doesn't quite have the same length.
Forecasters are a bit concerned with Smith's tendency to overplay his physicality, especially with his lighter frame and the longer timeline for his development, which might explain why they don't have him in the first round. Only a fourth of forecaster boards placed Smith inside their top 31 players.
Luke Musgrave, TE, Oregon State
(Evaluator Rank: 51st, Forecaster Rank: 32nd)
One of the most polarizing players in the entire draft, Luke Musgrave has a worrisome injury history, a unique athletic profile, and limited production when healthy.
That's a reason analysts generally disagree on him, but forecasters seem convinced he's a fringe first-rounder — it could be in part because of how the coaching staff at Oregon State talks about him or the fact that he's an accomplished multi-sport athlete, something the NFL has traditionally loved. It may also be that they prioritize harder-to-teach technical skills like his route running.
Cory Trice Jr., CB, Purdue
(Evaluator Rank: 103rd, Forecaster Rank: 147th)
There's a bit of a pattern with this year's cornerback group, where evaluators and forecasters disagree strongly. In this case, Purdue's Cory Trice Jr. generates some big disagreements.
Evaluators give him consideration for size and uncommon change of direction for a 6'3" player. His on-field production wasn't bad either, though evaluators seem to be betting more on his upside than anything else.
Unlike many mid-round picks, he could start on Day 1, too. Forecasters seem a little bit more concerned about his lengthy injury history, however, which is a bit reminiscent of last year, when evaluators were higher on Andrew Booth Jr. than forecasters were.
Jaylon Jones, CB, Texas A&M
(Evaluator Rank: 124th, Forecaster Rank: 168th)
In another instance of evaluators largely limiting their big disagreements to cornerback, Jaylon Jones gets credit for his size and on-field production. His performance has been stellar, but NFL evaluators are a little more concerned about his athletic traits and how they may translate.
His size, experience in an actual NFL defensive scheme, and history of production endeared him to evaluators, while forecasters are skeptical of his 4.57-second 40-yard dash.
Mike Morris, DT, Michigan
(Evaluator Rank: 207th, Forecaster Rank: 114th)
There were a few disagreements in the 110th to 140th overall rank range, but Mike Morris looks like one of the largest ones. Morris is the classic case of a player with high-level athletic tools that hasn't put it all together yet, which is where some of this disagreement comes from.
He was also played a little out of his best position, which might be why those connected to NFL teams are a little bit more optimistic about him — because they project a position switch that evaluators haven't.
Terell Smith, CB, Minnesota
(Evaluator Rank: 182nd, Forecaster Rank: 102nd)
Generally speaking, it seems as if evaluators take age into account more than forecasters do, and Terell Smith will be 24 by the time he enters training camp as a rookie.
MORE: 2023 NFL Draft Late Risers and Fallers
He's an excellent athlete but has fewer reps on film because of his later start in college than many of the cornerbacks projected to go around him. The fact that he has more development to do in a class full of excellent athletes might be why evaluators are willing to pass on him.
Parker Washington, WR, Penn State
(Evaluator Rank: 116th, Forecaster Rank: 151st)
There are a lot of slot-only receivers in this year's draft, so seeing a dramatic difference on just one of them is interesting. Evaluators seem to like Parker Washington's package of traits, especially the rare strength he demonstrates for his size. He doesn't have the long speed some of the slot candidates this year have, but the agility and after-the-catch prowess is appealing.
Forecasters seem to be a little bit more concerned about how his skill set translates into the NFL, especially coming out of an RPO-heavy offense without many NFL concepts — there isn't much film of his ability to challenge slot corners as a route runner.
Listen to the PFN Scouting Podcast
List to the PFN Scouting Podcast! Click the embedded player below to listen, or you can find the PFN Scouting Podcast on iTunes, Spotify, and all major podcast platforms.  Be sure to subscribe and leave us a five-star review! Rather watch instead? Check out the PFN Scouting Podcast on our Scouting YouTube channel.