The 2023 NFL season is coming up quickly. This means that the final dynasty rookie drafts are happening over the next few weeks, and fantasy football managers are doing as much research as possible to be prepared!
Here at Pro Football Network, we do the research to make sure that you can walk into your draft confident that you're going to dominate your league this season. With that in mind, here are our in-depth dynasty rookie rankings for 2023.
Did you get a trade offer in your dynasty or redraft league? Not sure what to do? Make championship-winning decisions with PFN's FREE Fantasy Football Trade Analyzer and Calculator!
Best Rookies For Fantasy Football | 1-10
1) Anthony Richardson, QB, Indianapolis Colts
We have truly never seen an athlete like Richardson enter the NFL at the QB position. While we've seen players like Justin Fields, Josh Allen, and Jalen Hurts all enter the NFL with great athleticism, Richardson's truly on another level.
At the 2023 NFL Combine, Richardson weighed in at 6'4″ and 244 pounds, which is heavier than Allen when he entered the league in the 2018 NFL Draft. For context, Allen ran the 40-yard dash in 4.75 seconds, while Richardson clocked a ridiculous 4.43 time!
Along with his blistering speed, Richardson also had a 10'9″ broad jump and a 40.5″ vertical leap. These numbers indicate that Richardson could simply break fantasy football due to his rushing upside and the cheat code that's presented by mobile QBs.
With Shane Steichen coming into town, Richardson's going to be in the perfect scheme to take advantage of his rushing ability. Add in the litany of playmakers that he has at his disposal, and we could easily see the former Florida Gator QB be a top-10 fantasy football option in his rookie season.
While Bijan's in consideration for the No. 1 overall pick, it's going to be difficult to pass up the athletic QB at the top of drafts in Superflex formats.
2) Bijan Robinson, RB, Atlanta Falcons
When we're discussing whether or not Bijan Robinson is the best running back prospect of all time, we clearly need to be drafting him within the top five of dynasty rookie drafts. Put on the tape, and it's evident that Robinson has the chance to be special in today's NFL.
With his size and power capacity, Robinson should be able to handle a significant amount of carries for this Falcons offense that is going to want to run the ball as much as humanly possible. He also has the skill set to be a receiving threat at every level of the field, which is rare to find.
From a fantasy standpoint, Robinson has the ability to be the RB1 every year for the next 5+ seasons due to what he can do on the football field. Behind one of the best run-blocking offensive lines, 1,500+ rushing yards in his rookie season is not out of the realm of possibilities.
Robinson's been highly touted in dynasty circles over the past several years. If you have a top-two selection in your Superflex rookie drafts, you can't go wrong with either Robinson or Richardson.
3) Bryce Young, QB, Carolina Panthers
From a pure talent standpoint, Young might be the best QB prospect we've seen enter the league in a very long time. His lethal combination of pinpoint accuracy, anticipation, and poise seems set to carve up NFL defenses right out of the gate.
However, Young has his size (or lack thereof) working against him as he transitions into the NFL. While he was able to succeed playing against the best defenders college football had to offer at just 5'10", the NFL is a completely different ball game. There are certainly some concerns that Young may not be able to withstand the beating NFL QBs are forced to take week in and week out.
The argument for (or against) Young from a fantasy football standpoint comes down to risk aversion. If you're willing to take the risk that Young stays healthy and succeeds in the NFL, he should be high up on your draft board. But if you prefer to play dynasty a bit safer, you simply may not end up with the former Alabama QB on your roster due to all the concerns surrounding him.
The tape doesn't lie, but it doesn't tell us the full story.
4) C.J. Stroud, QB, Houston Texans
C.J. Stroud's 2022 tape was a bit of a roller coaster, which also somehow matched his stock throughout the predraft process. Throughout the entire offseason leading up to the 2023 draft, it seemed as though opinions on Stroud's projection to the NFL varied almost on a weekly basis.
Nevertheless, Stroud wound up going off the board as a top selection in the NFL Draft to the Houston Texans, which instantly vaults him to the top of Superflex rookie drafts.
There will be questions about Stroud's immediate fantasy prognostication due to the situation around him, particularly regarding his receiving corps. With Brandin Cooks no longer in town, Stroud will be throwing to a widely unproven group of receiving options in 2023, which is going to make starting the young QB in your lineups a gamble week in and week out.
The offensive line in Houston figures to be one of the better units the league has to offer, but due to the unknowns with his receiving corps, fantasy managers may need to wait a year or two before they are comfortable starting Stroud in as a top-15 option at the QB position week after week.
5) Jahmyr Gibbs, RB, Detroit Lions
The Lions clearly wanted an explosive playmaker that can score from anywhere on the field, and that's exactly what they're getting with Jahmyr Gibbs after selecting him No. 12 overall.
Gibbs' elusiveness — combined with his receiving ability at every level of the field — is going to instantly make him a fan favorite in Detroit. However, does that mean that he's instantly going to be a fantasy football star?
While Gibbs may have numerous performances in 2023 and beyond that help push your lineup over the top, consistency may be a concern due to his role in the offense. David Montgomery's presence in Detroit for the foreseeable future relegates Gibbs to a "playmaking" role vs. a more traditional RB that will see a consistent workload game in and game out.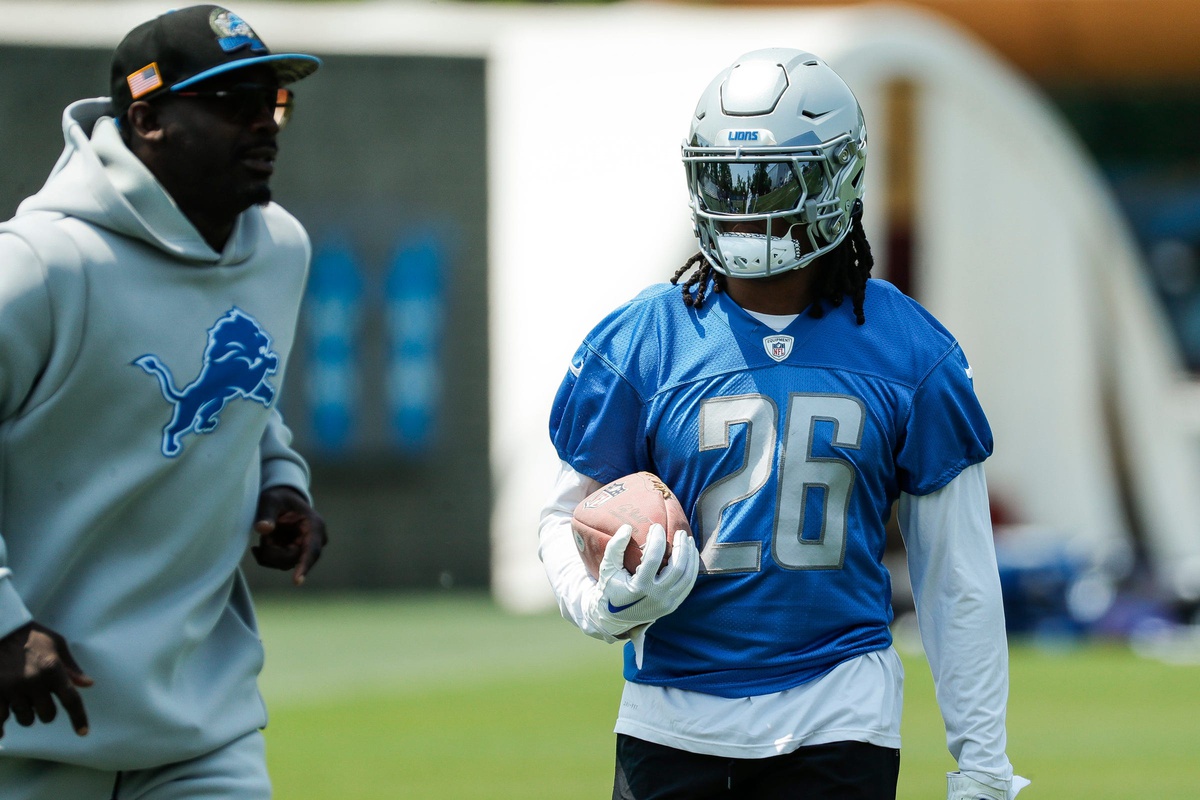 We should expect to see Gibbs moved around the formation and among the league leaders at running back in terms of routes run, but targets are much more difficult to project than carries. At just 200 pounds, it's highly unlikely that Gibbs sees north of 10 carries per game, which means that he's going to need to be highly efficient with his opportunities when they come.
With all that in mind, Gibbs' home-run threat ability and his upside keep him towards the top of Superflex rookie drafts. As long as you're prepared to live with some of the ups and downs from a consistency standpoint, he's absolutely still worth a top-five selection.
6) Jaxon Smith-Njigba, WR, Seattle Seahawks
The first wide receiver off the board in dynasty rookie drafts this year should absolutely be the star prospect out of Ohio State, Jaxon Smith-Njigba. JSN's route-running acumen, combined with his spatial awareness and hand-eye coordination, makes projecting his transition to the NFL easy.
While he's unlikely to routinely win on the outside, slot-only options have shown us in recent years that they can be top-tier contributors for fantasy football. Amon-Ra St. Brown and Cooper Kupp have proven that you don't have to line up routinely on one side of the field to dominate the target share of your respective offense. Smith-Njigba could easily follow in their footsteps as early as 2024.
Given the other receiving weapons that are in this Seattle Seahawks offense, 2023 is a bit more difficult to project JSN reaching his true ceiling for fantasy purposes. DK Metcalf and Tyler Lockett will still certainly be above Smith-Njigba in the target pecking order for this season, while players like Zach Charbonnet — we'll get to him in a bit — and Noah Fant will also attempt to eat into that opportunity as well.
With Lockett now on the wrong side of 30, plus a potential out in his contract as a post-June 1 cut next offseason, JSN could easily become a top-15 fantasy WR as early as next year. However, if Seattle chooses to retain Lockett longer than 2024, dynasty managers may feel like they wasted a top-six pick due to the fact that JSN may not reach his ceiling anytime soon.
Regardless, dynasty is about acquiring talented players over what their situations may suggest. Talent ultimately will win out in the end, and JSN has certainly proven that he has the talent needed to become one of the best fantasy football wide receivers sooner than later.
7) Jordan Addison, WR, Minnesota Vikings
Jordan Addison is an incredibly talented WR that could have potentially gone much higher in the NFL Draft if he had been able to enter the NFL after the 2021 CFB season.
Two years ago, Addison reeled in 100 receptions in 14 games for almost 1,600 yards and a jaw-dropping 17 touchdowns while playing for the Pitt Panthers and catching passes downfield from Kenny Pickett.
After Pickett left for the NFL, Addison transferred to USC to play with Caleb Williams, who we'll be talking about in this article at this time next year. Addison's production, however, took a significant dip as he assumed a different role for the Trojans.
The former Biletnikoff Award winner's aDOT (average depth of target) dropped from 12.3 in 2021 to a pedestrian 7.3 with USC under Lincoln Riley, which caused Addison's hype to take a bit of a tumble going into the draft.
Ultimately, Addison went off the board at No. 23 overall to the Minnesota Vikings, which may be the best spot for immediate fantasy production out of all incoming wide receivers. With Adam Thielen out the door, Addison has a wide-open path to the No. 3 receiving role behind Justin Jefferson and T.J. Hockenson in an offense that figures to still be a powerful unit in 2023.
Athleticism concerns surround Addison — not to mention his size at just 174 pounds — but he can easily be a weekly-viable fantasy option with the target opportunity that's in front of him. Addison may not have as high of a ceiling as other previous first-round rookie wide receivers, but the floor could be very valuable.
As long as Addison's off-the-field incident for speeding doesn't come back to haunt him, he should be viewed as a solid selection in Superflex rookie drafts.
8) Quentin Johnston, WR, Los Angeles Chargers
Quentin Johnston has all the makings of a dynamic and explosive receiving threat at the next level. Despite being 6'3" and 208 pounds, Johnston moves incredibly well for his size and has incredible start/stop ability.
While his athleticism is absolutely evident when you put on his tape, Johnston still profiles as a bit of a project in the NFL due to his lack of refined route-running experience and inconsistency with reeling in difficult catches.
Last season, Johnston had a shocking 14% drop rate, and he reeled in just eight of his 18 contested targets. Nevertheless, the Chargers still drafted him in the first round at No. 21 overall.
While the draft capital is incredibly encouraging for Johnston, and the athleticism suggests tremendous upside, he finds himself in a very crowded offense for fantasy purposes. When healthy, Keenan Allen, Mike Williams, and Austin Ekeler should all easily see more opportunities than the rookie wideout.
Meanwhile, Gerald Everett figures to remain heavily involved in this offense too. That means we could see Johnston potentially as the No. 5 receiving option in 2023, and that makes projecting him as a reliable fantasy asset near-impossible.
2024 becomes a bit more clear with Ekeler and Allen both potentially playing elsewhere. However, dynasty managers will have to choose whether or not it's worth essentially stashing Johnston on their bench for the entirety of 2023.
The talent indicates that Johnston should still be a first-round pick in dynasty rookie drafts, but there is some risk associated with drafting the explosive playmaker out of TCU.
9) Zay Flowers, WR, Baltimore Ravens
There's no denying Zay Flowers' talent when you put on the tape. At Boston College, Flowers routinely created separation with ease and made big play after big play.
Despite being a Senior Bowl snub, Flowers caught the attention of NFL GMs, and he parlayed his on-the-field success into Round 1 draft capital from the Baltimore Ravens. While the high draft capital is encouraging, it doesn't necessarily translate to immense fantasy opportunity right out of the gate.
This Ravens offense suddenly went from being barren of WR talent to being a crowded room with numerous players vying for targets. Rashod Bateman, Odell Beckham Jr., Mark Andrews, Flowers, Devin Duvernay, and J.K. Dobbins are all going to be demanding work through the passing game in 2023, and this offense hasn't exactly been known as a pass-happy unit in previous seasons.
Todd Monken could easily change that here in 2023 and beyond, but this is too murky of a situation to ascertain whether or not Flowers is going to be an asset that dynasty managers feel comfortable with week after week.
The talent level still keeps Flowers within the top 12 of dynasty rookie rankings, but a lot has to go his way in Year 1 for us to feel comfortable plugging him into our starting lineups.
10) Dalton Kincaid, TE, Buffalo Bills
Dalton Kincaid is in the conversation for the best receiver in this entire draft class. No, not just the best receiving TE, but the best all-around receiver, including the wideouts. Kincaid's pure receiving ability, combined with his landing spot, absolutely makes him worth considering in the top 10 of rookie drafts.
In 2022, Buffalo struggled to find a consistent receiving threat alongside Stefon Diggs. Although Gabe Davis showed big-play potential on numerous occasions, he wasn't able to take the massive step forward that many fans were anticipating. Buffalo's offense also sputtered at times last year without another threat to take pressure off of No. 14.
With their first-round pick in the 2023 NFL Draft, Buffalo sought to provide Josh Allen with that consistent receiving option, zeroing in on Kincaid as the perfect fit. With Dawson Knox already on the roster, Kincaid should be able to move around the formation to create mismatches, which could lead to some big performances from a fantasy standpoint.
Rookie TEs are always a bit of a gamble in fantasy football, but we've seen some impact performances right out of the gate in recent years. Kincaid could be the next in line, but you may just need to prepare yourself to live with some of the ups and downs.
11) Kendre Miller, RB, New Orleans Saints
From a tape standpoint, there may not be a more well-rounded RB in this entire draft class (after Robinson) than Kendre Miller. The 5'11" and 215-pound RB has the size to be able to withstand a significant workload, but he's also smooth and evasive in the open field with the ball in his hands.
Add on surprising top speed and natural receiving ability, and there's a case to be made that Miller should be slotted much higher in dynasty rookie rankings.
Unfortunately, the landing spot that Miller fell into is one that's all sorts of confusing right now for fantasy purposes. Alvin Kamara has a potential suspension looming over his head, and the Saints went out and gave Jamaal Williams a three-year, $12 million contract in free agency this offseason, which muddies the waters quite a bit for Miller's fantasy projection in 2023.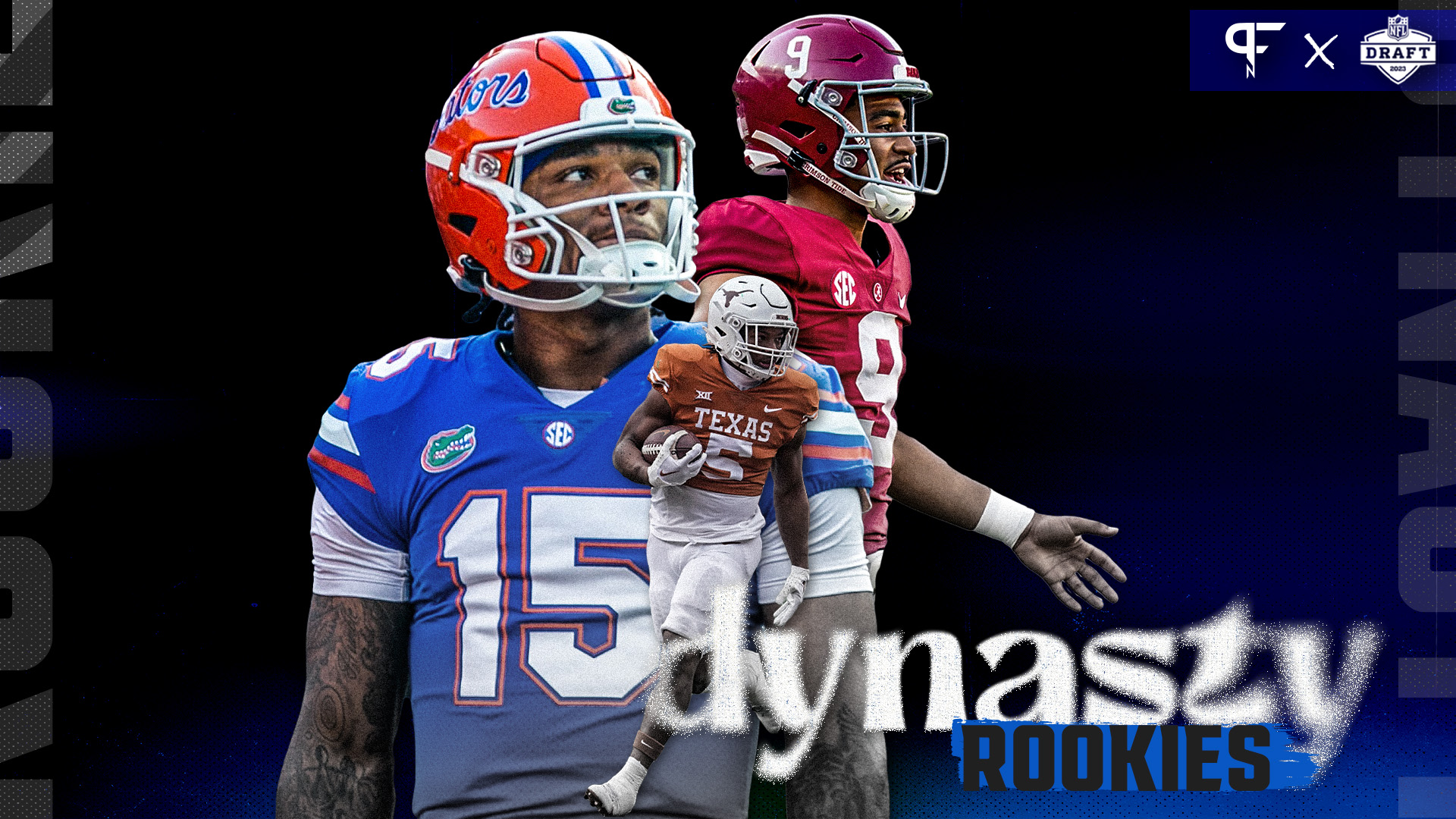 If Kamara is indeed suspended, Miller should step into the receiving-down role for New Orleans, which should have immense fantasy value with Derek Carr's tendency to target his running backs. However, if Kamara does escape punishment from the league, there's the potential that Miller simply doesn't see the field much at all this season, with Williams handling the majority of the first and second-down responsibilities.
As mentioned previously, though, dynasty rookie drafts should prioritize talent over situation. If you watch the tape, you should have no doubts about Miller's talent level and what he can be.
12) Devon Achane, RB, Miami Dolphins
If you love highlight-reel runs, Devon Achane is a target for you in your rookie drafts. With blazing top-end speed, Achane can break angles (and ankles) of incoming defenders with his acceleration, which makes him an incredibly enticing asset for fantasy football.
At his size, though, just 188 pounds, Achane is highly unlikely to shoulder a massive workload for this Miami Dolphins offense. While he may be able to reel off multiple 15+ yard runs in a game, the carry totals and target opportunities may simply not be enough to put him into the top 24 RB discussion for fantasy football.
Add in the fact that the Dolphins have multiple other options at their disposal in this backfield, and it's difficult to find a path where Achane can see more than 10 touches per contest, at least in 2023. There's the potential that he breaks every efficiency metric in the book this season with how high-powered this offense will be, but the consistency won't be there for the explosive RB.
13) Jonathan Mingo, WR, Carolina Panthers
Jonathan Mingo was a bit of a late riser throughout the predraft process, but the tape suggests that he can be an instant impact player at the next level. The Carolina Panthers clearly thought so as well, making him the No. 39 overall selection in the 2023 NFL Draft to be Young's potential No. 1 receiving option.
The former Ole Miss wideout has the size and athleticism to be a traditional X-receiver on the outside for this Panthers offense. While he never posted jaw-dropping numbers during his college career for the Rebels, Mingo's tape shows that he can certainly handle a larger role.
That role may not necessarily come in Year 1, though, with the other receiving options above him on the depth chart. Carolina went out and filled out their roster at wide receiver this offseason after trading away DJ Moore, which means that Mingo is going to have to prove that he's worthy of a starting role right away in training camp.
With Adam Thielen, DJ Chark Jr., Terrace Marshall Jr., and Laviska Shenault Jr. all vying for starting roles in this offense, Mingo may end up starting the season on the sideline for Carolina. Injuries could certainly open up an opportunity for Mingo to step in and develop chemistry with Young, but that level of uncertainty pushes the explosive playmaker a bit further down in the rankings.
14) Zach Charbonnet, RB, Seattle Seahawks
If Zach Charbonnet had landed almost anywhere else in the NFL Draft, we'd be discussing him as a top-five selection in rookie drafts. There weren't many traditional three-down running backs in this draft class, but Charbonnet's tape indicates that he can easily handle a massive workload for an NFL team right away.
Unfortunately, it's highly unlikely that Charbonnet will ever get that chance now that he's a member of the Seattle Seahawks. Kenneth Walker III was superb last season for Seattle, and he's clearly established himself as the alpha in this RB room.
Even though Charbonnet was selected with the 52nd overall pick, Walker is going to be the clear lead option in this backfield, which will dramatically limit Charbonnet's ceiling from a fantasy football standpoint.
RB depth is still a necessity for dynasty rosters, so Charbonnet shouldn't be dropped down the rankings too far. However, with how many other talented players there are in this offense, Charbonnet is unlikely to ever enter into the top 20 RB discussion while Walker is healthy and on the field.
Add in the fact that Charbonnet's already dealing with a shoulder injury that's labeled him as "out indefinitely" at the time of writing, and drafting the talented RB becomes even riskier.
15) Josh Downs, WR, Indianapolis Colts
Josh Downs has all the makings of a dynamic slot receiver at the next level. While he fell all the way to the third round of the 2023 NFL Draft, the tape tells us that Downs can be an instant impact player in today's NFL.
While slightly undersized at 5'9" and 172 pounds, Downs is able to make incredible contested catches well outside of his frame. Additionally, his ability to control his momentum in and out of breaks, plus his overall route-running acumen, will allow him to be a reliable receiving option over the middle of the field.
Landing in Indianapolis indicates that Downs can be the starting slot receiver for the Colts as early as Week 1 of 2023. Isaiah McKenzie has struggled to step into a larger role when called upon, and Downs should have no problem proving to be a more consistent option.
While there are certainly plenty of playmaking threats in this offense that will demand touches, like Michael Pittman Jr. and Alec Pierce, Downs has the potential to become Richardson's security blanket over the middle of the field instantly.
16) Will Levis, QB, Tennessee Titans
Will Levis' dynasty stock took a massive hit when he tumbled out of the top-five discussion of the 2023 NFL Draft all the way to Round 2. While he possesses every athletic tool NFL talent evaluators look for at the position, Levis' inconsistencies on tape ultimately scared multiple GMs away from taking him with a first-round pick.
Now, Levis finds himself in a QB competition with Ryan Tannehill and Malik Willis. While Willis struggled immensely in his rookie season, it was to be expected as he transitioned from Liberty to the NFL. However, all reports out of the early portions of the offseason for Tennessee have indicated that Willis has made massive strides going into Year 2.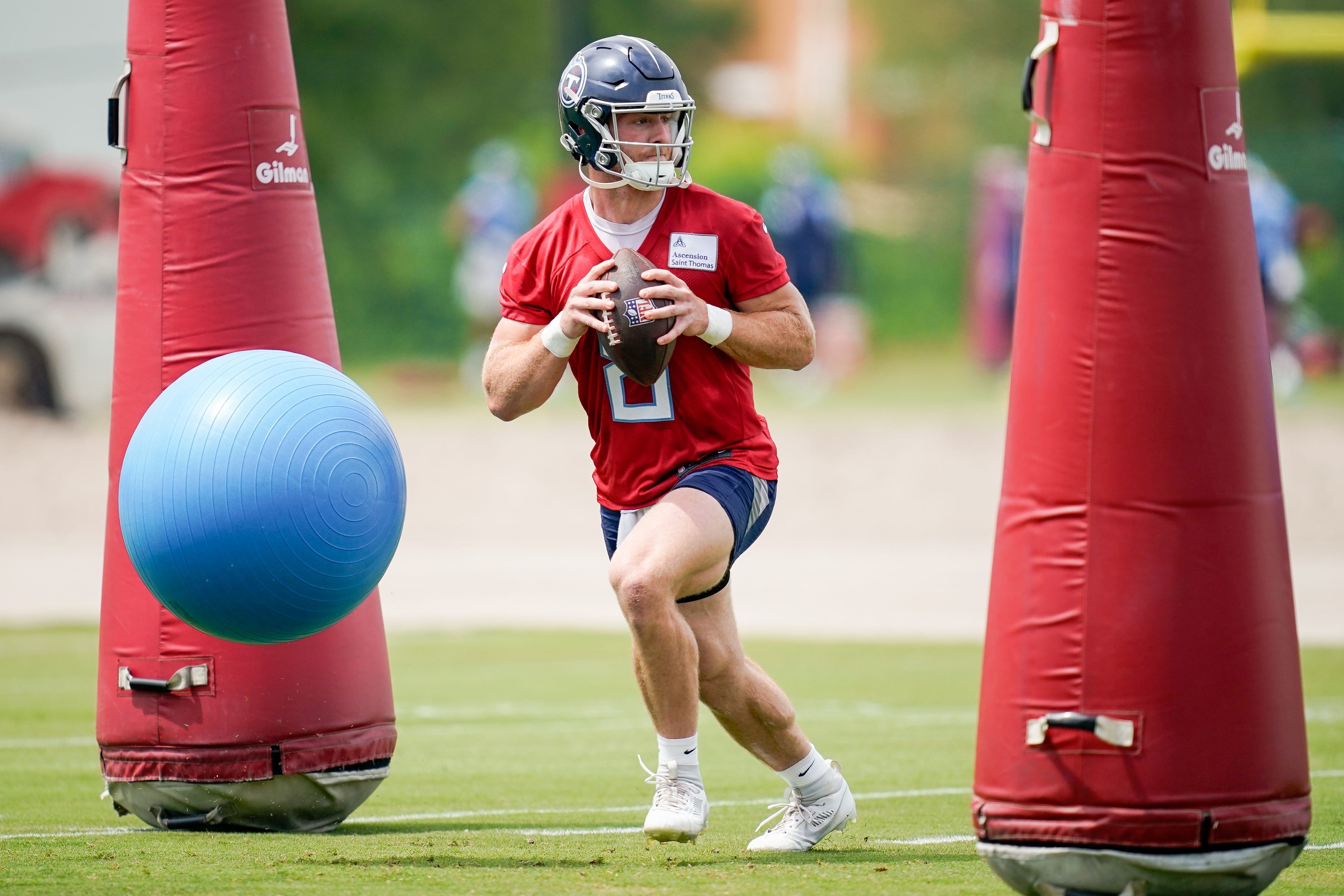 Additionally, Tannehill has proven that he can still be a reliable QB — for fantasy and real life — when he's healthy and has receiving options to throw to. Unfortunately for the veteran QB, the Titans' WR depth chart got thin very quickly after the injury bug hit the roster, and his production wasn't up to his usual standards in 2023.
For Levis, it's highly unlikely that he sees the field as long as Tannehill is healthy this season. The lack of top-tier draft capital to his name signals that he's going to have to work his way into the starting role. Tannehill should have the edge over him for at least Year 1.
If you select Levis in your dynasty rookie drafts, you're going to be stuck hoping that he shows enough in practices and preseason games to warrant consideration for the starting job in 2024. As we've seen with Willis, though, in this very offense, that's not always a guarantee.
17) Tank Bigsby, RB, Jacksonville Jaguars
Tank Bigsby wasn't exactly a known commodity going into the 2023 NFL Draft, but he shot up rookie drafts after landing with the Jacksonville Jaguars in Round 3.
While Travis Etienne Jr. is certainly the starter, there's a major opportunity in front of Bigsby to see significant touches right away. Doug Pederson has shown zero hesitancy in the past to utilize multiple running backs in his system, and Bigsby's power capacity is a perfect complement to Etienne's slash-and-dash style.
At the RB position, you're simply looking for the opportunity for them to get onto the field and receive touches. Bigsby has the talent to make those touches count in a major way.
With the unknowns of a lot of the other RBs above Bigsby in the dynasty rookie rankings, it wouldn't be crazy to select the former Auburn RB even higher than this due to the guaranteed opportunity in front of him and the glowing reports coming out of training camp.
18) Jayden Reed, WR, Green Bay Packers
Jayden Reed isn't the most flashy player on the football field, but he may just be the most reliable. When you watch Reed's Michigan State tape, you'll see an incredibly consistent receiving threat that simply knows how to get open and play the position at a high level.
The lack of competent QB play during his time as a Spartan certainly hurt Reed's draft stock, but there's an argument to be made that he's as ready to step into the NFL as any other wide receiver in this draft class.
The Packers have a major need for reliable receiving options on this roster after the departure of Aaron Rodgers, Allen Lazard, and Randall Cobb. Christian Watson has all the potential in the world, but he's still wildly unproven heading into his second NFL season, and Romeo Doubs showed some major inconsistency during his rookie campaign.
With Jordan Love stepping in at quarterback, there's no telling who he's going to lock onto in this receiving corps. With Reed already taking starting slot reps during the early portions of the Packers' offseason, he could become Love's security blanket over the middle of the field right away.
There may not be a better value in dynasty rookie rankings right now than the talented wide receiver out of Michigan State.
19) Michael Mayer, TE, Las Vegas Raiders
Michael Mayer has been highly touted for several years now as the next potential "big thing" at TE for fantasy football. While his tape does suggest a solid and well-rounded player for the position in today's NFL, Mayer may not be ready to be a target hog at the next level right out of the gate.
There's significant competition for targets in this Raiders offense in 2023. Davante Adams should continue to be towards the top of the league in footballs thrown his direction, but Jakobi Meyers was also brought in this offseason, and Hunter Renfrow still remains a vital part of Vegas' offense.
Additionally, Austin Hooper also figures to be a key red-zone option this year after he was brought over from Tennessee this offseason. All of this combines to signal that Mayer is unlikely to make a major impact in his rookie season, with plenty of questions surrounding the overall state of the team as it heads into 2024.
If you do end up selecting Mayer, you'll need to be patient.
20) Marvin Mims, WR, Denver Broncos
Marvin Mims was a late riser up dynasty rookie rankings, and he ultimately ended up getting substantial enough draft capital to warrant significant consideration heading into rookie drafts.
Directly after the NFL Draft, it seemed as though Mims was going to have to wait his turn until 2024 to see the field due to the amount of competition above him on the depth chart.
2023 Dynasty Superflex Rookie Rankings | 21-60
21) Sam LaPorta | DET, TE
22) Tyjae Spears | TEN, RB
23) Roschon Johnson | CHI, RB
24) Hendon Hooker | DET, QB
25) Luke Musgrave | GB, TE
26) Michael Wilson | ARI, WR
27) Rashee Rice | KC, WR
28) Jalin Hyatt | NYG, WR
29) Cedric Tillman | CLE, WR
30) Chase Brown | CIN, RB
31) Zach Evans | LAR, RB
32) Tank Dell | HOU, WR
33) Israel Abanikanda | NYJ, RB
34) Luke Schoonmaker | DAL, TE
35) Puka Nacua | LAR, WR
36) DeWayne McBride | MIN, RB
37) Evan Hull | IND, RB
38) Eric Gray | NYG, RB
39) Charlie Jones | CIN, WR
40) Jake Haener | NO, QB
41) Stetson Bennett | LAR, QB
42) Dorian Thompson-Robinson | CLE, QB
43) Sean Tucker | TB, RB
44) A.T. Perry | NO, WR
45) Jaren Hall | MIN, QB
46) Tanner McKee | PHI, QB
47) Clayton Tune | ARI, QB
48) Deuce Vaughn | DAL, RB
49) Kayshon Boutte | NE, WR
50) Xavier Hutchinson | HOU, WR
51) Darnell Washington | PIT, TE
52) Tyler Scott | CHI, WR
53) Tucker Kraft | GB, TE
54) Aidan O'Connell | LV, QB
55) Max Duggan | LAC, QB
56) Trey Palmer | TB, WR
57) Parker Washington | JAX, WR
58) Chris Rodriguez Jr. | WAS, RB
59) Kenny McIntosh | SEA, RB
60) Brenton Strange | JAX, TE
61) Andrei Iosivas | CIN, WR
62) Mohamed Ibrahim | DET, RB
63) Dontayvion Wicks | GB, WR
64) Tre Tucker | LV, WR
65) Zack Kuntz | NYJ, TE
66) Keaton Mitchell | BAL, RB
67) Rakim Jarrett | TB, WR
68) Derius Davis | LAC, WR
69) Will Mallory | IND, TE
70) Camerun Peoples | CAR, RB
71) Bryce Ford-Wheaton | NYG, WR
72) Elijah Higgins | MIA, TE
73) Justin Shorter | BUF, WR
74) Lew Nichols III | GB, RB
75) Ronnie Bell | SF, WR
76) Dontay Demus | FA, WR
77) Tiyon Evans | CAR, RB
78) Demario Douglas | NE, WR
79) Cameron Latu | SF, TE
80) Davis Allen | LAR, TE
81) Malik Cunningham | NE, QB
82) Tyson Bagent | CHI, QB
83) Jalen Moreno-Cropper | DAL, WR
84) Xazavian Valladay | HOU, RB
85) Joseph Ngata | PHI, WR
86) Payne Durham | TB, TE
87) Tavion Thomas | FA, RB
88) Josh Whyle | TEN, TE
89) Grant DuBose | GB, WR
90) Antoine Green | DET, WR
91) Zakhari Franklin | FA, WR
92) Jalen Brooks | DAL, WR
93) Jase McClellan | FA, RB
94) Colton Dowell | TEN, WR
95) Demond Demas | FA, WR
96) Kendall Milton | FA, RB
97) Jacob Copeland | TEN, WR
98) Ra'Shaun Henry | CLE, WR
99) Jake Bobo | SEA, WR
Listen to the PFN Fantasy Podcast
Listen to the PFN Fantasy Podcast! Click the embedded player below to listen, or you can find the PFN Fantasy Podcast on iTunes, Spotify, and all major podcast platforms.  Be sure to subscribe and leave us a five-star review! Rather watch instead? Check out the PFN Fantasy Podcast on our Fantasy YouTube channel.