Everywhere you turn, you'll see a lot of talk about the draft prospects in the 2020 NFL Draft. This includes the top wide receiver prospects in this year's class. The terms that are often brought up to separate those receivers are route-running, hands, athleticism, yards after catch ability, and more things that get plenty of air time out in the open. You can look even deeper than that, and many draft analysts will talk about footwork, hips, and other key attributes that make receivers what they are.
But a trait and tool in the receiver's arsenal that does not get nearly enough due time are their eyes. The power of a receiver's eyes is often undersold to the casual fan when it can be the biggest reason that a receiver is able to deceive a defensive back and get open. And the commonality among all top receivers is that they use their eyes incredibly well.
In this class alone, I have yet to come across a top receiver prospect that does use their eyes to win on some amount of their reps. The 2020 NFL Draft has some of the best technicians from recent memory, and they use their eyes incredibly well to win.
Jerry Jeudy, Alabama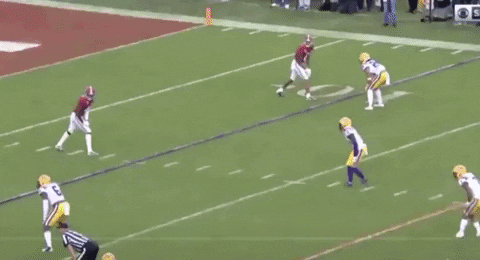 Jerry Jeudy is the master of using his eyes to win. In terms of technical skills in this draft, Jeudy is the best I have studied. He has sudden feet and violent hips, but I would say in terms of his route-running, his best trait is his eye manipulation.
Here he is working against Kary Vincent, and he is running a simple 7-out route. As he stems this inside, his eyes are looking completely towards the middle of the field, at the deep safety, as if this is going to be a dig route. His eyes are what draws Vincent and Grant Delpit both inside, and all he has to do is stick his foot and explode outside. And that right here is an excellent use of his eyes.
Henry Ruggs III, Alabama
How about his teammate at Alabama, Henry Ruggs III? Yeah, he follows that same traveled path that Jeudy, Devonta Smith, and Jaylen Waddle all went down as well.
This is a sluggo route, and I would be hardpressed to find a route where your eyes are more important. Ruggs does a great job of using his head and shoulders here to sell the slant. It looks great, the pad level and his entire momentum are carrying him inside. His eyes are looking straight inside towards the middle of the field hook/curl defender as a means to get this defensive back to bite.
Related: What wide receivers might the Denver Broncos target in the 2020 NFL Draft?
One thing Ruggs could have done even better is to pan towards Tua Tagovailoa on this play and act like he was getting the ball for a slant. That would have sold it even more and allowed him to just walk-in for a touchdown. But still, the power of the eyes is undeniable.
Justin Jefferson, LSU
You will hear wide receiver coaches sell the phrase "the eyes tell lies" to their young receivers. That will carry from high school all the way right up to the NFL. They smack on it in every drill and practice. It is essential to success as a wide receiver at any level.
Justin Jefferson shows you can use it here on the goal line. He faces a cornerback who is head-up and plays on the inside breaking route right as soon as he sees Jefferson's eyes fire inside. Jefferson is keying the inside with his eyes before he even breaks out of his stance. That is a fantastic set up to break open by Jefferson, and he gets this defensive back to bite big time.
CeeDee Lamb, Oklahoma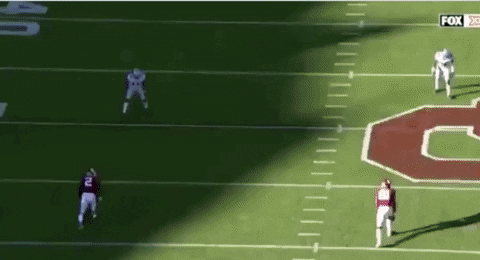 Ceedee Lamb is just wicked. This is an excellent job to sell the post on this post-corner. His feet and hips are fantastic here on the break back outside. The eyes are still critical, but this is a play where everything comes together for Lamb.
He illustrates peak eye manipulation here. You see, not only does he shoot his eyes inside, but he looks back for this football as if he is expecting it out of his break. That is a great sell job. Lamb does what Ruggs did not do. If this ball had not been underthrown, Lamb would have been open by a good three or four steps. And a big part of that is his eyes.
Jalen Reagor, TCU & Isaiah Hodgins, Oregon State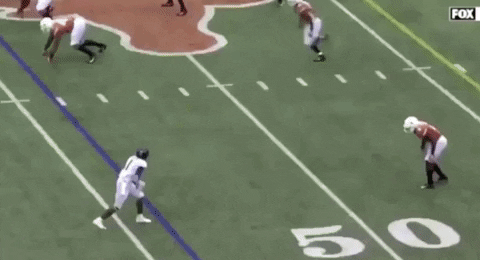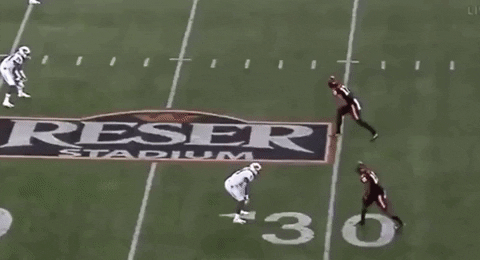 I talked about the sluggo route earlier with Ruggs, but here are both Jalen Reagor and Isaiah Hodgins doing a fantastic job of selling the route with their eyes. Hodgins does this incredibly well. It is in rhythm on a 'one, two, three' step beat, and it is efficient. But his eyes are driving his entire body with him. He looks back for the football, and he squares up inside. That is the epitome of eye manipulation and springs him wide open.
Reagor, who is the faster of the two by far, does not sell this as hard, but he has the same step cadence, and the eyes drive his body with him. The sell is not nearly as hard, but right out of the break, everything says slant. He commits his shoulders, and he commits his eyes. Those eyes are looking right back at his quarterback. And that is why the corner comes down and takes the bait.
Top wide receivers in this draft all have eye-popping traits. We have seen it, and all of these plays have more going on than just great eye manipulation. There are far more factors to break down in each route and rep that is pictured here. But for a skill, the eye usage of a wide receiver flies too far under the radar, and it should be vital in evaluating wide receivers. It is a massively important trait.