The Minnesota Vikings have approximately $18 million in cap space remaining and a number of holes on the roster, making the team an ideal candidate to sign one of the few free agents left on the market. With needs at cornerback, edge defender, and running back, there's plenty the team could do to improve its 2023 prospects.
Late-offseason adds typically don't make a significant impact, especially when they come in free agency. But there are enough quality players yet to be signed to a contract that could help Minnesota in a critical moment. We look at the top remaining free agents the Vikings could add before training camp breaks.
Remaining Free Agents the Minnesota Vikings Could Sign Before Training Camp
EDGE Yannick Ngakoue
It might seem a bit odd to bring back a player who was unspectacular for Minnesota before being traded away, but it's a different environment – the Vikings have a different defensive scheme, one that's a bit more generous to Yannick Ngakoue's skill set.
Brian Flores seems to have a better understanding of how to use a wider variety of playing styles, and even though Ngakoue has always had issues defending the run, he knows how to rush the passer. He's maintained a pretty consistent pressure rate of 11 percent over the years, and it just so happens his lowest total was with the Vikings at 8.3 percent. The player the Vikings saw was not the player who happened to play for the Las Vegas Raiders, Indianapolis Colts, Baltimore Ravens, and Jacksonville Jaguars.
With questions about Danielle Hunter's availability – from both a contract and injury perspective – and no depth behind him and Marcus Davenport, it would be smart for the Vikings to sign a third veteran pass rusher.
EDGE Jadeveon Clowney
Jadeveon Clowney is more well-known for his run defense than Ngakoue, and if the Vikings wanted to go in another direction to complement Hunter and Davenport, Clowney would not be a bad option. The difference between his run defense and pass-rush prowess is overstated, too.
The pressure rate he's generated over the course of his career is just slightly below Ngakoue's. He's been helped throughout his career a bit more with scheme and complementary rushers, but the pass-rush ability is there.
He'd cost a bit more than Ngakoue, but the Vikings have the cap space and need the help.
G Dalton Risner
The Vikings are unlikely to move on from their starting five offensive linemen to start the season. But if they decide a few weeks in that their young interior linemen haven't developed, they don't have alternatives to turn to. Bringing in a quality veteran like Risner would allow them to make that choice and fix problems.
Risner has tackle-guard flexibility and is a better pass protector than any of the three linemen on the interior. Though his run-blocking has always needed a bit more work, he's a starting-quality player that's still available in free agency. That's always worth a look.
CB Marcus Peters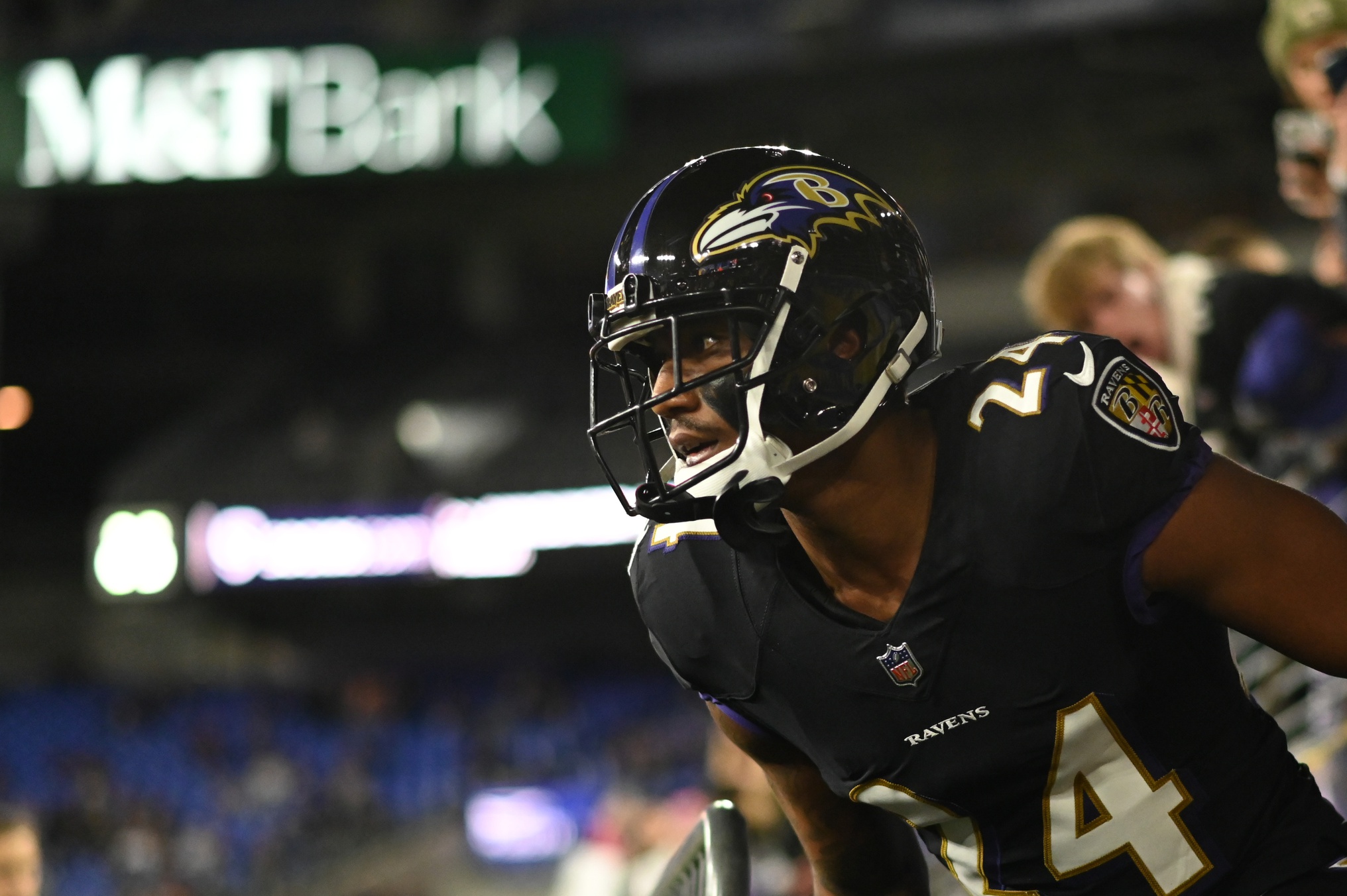 The Vikings have virtually no certainty at cornerback and are fielding a team full of first- and second-year players in the secondary. That's a big concern, especially given the somewhat long development timelines associated with the position.
Marcus Peters is a veteran with experience in multiple schemes with multiple techniques, and he's been able to hold up in the situations that Flores often creates for defensive backs. He's a high-risk, high-reward cornerback, so there will be some plays he gives up – especially at 31 years old – but he generally makes up for that with interception production.
That didn't happen last year, but he also had to deal with more because the Ravens' secondary was depleted. He also held his assignments pretty well and played much better than most fourth or fifth cornerbacks do.
RB Kareem Hunt
The Vikings have not replaced Dalvin Cook and seemingly don't intend to. That isn't a bad approach to the position, but it still pays to have some talent there. There isn't anyone proven on the roster, and Kareem Hunt has shown the capability to be both a good committee back and starting back. He has explosive play ability and can fill a variety of roles in different offenses.
As a good all-around RB that has a recent history of high-level running back play, he'd be worth adding to the roster as a low-risk complement to Alexander Mattison. At 28 years old, he's a bit past the age at which we tend to see peek running back performance, but he hasn't fallen off yet and wouldn't cost the Vikings too much.
CB Bryce Callahan
The Vikings need veteran help at cornerback, and though Bryce Callahan will likely only be able to help in the nickel role, having a backup for that position when a third-round rookie is currently slated to start there seems smart.
Callahan, who will turn 32 partway through the 2023 season, played well for the Los Angeles Chargers in the first half of 2022 – about as well as he had for the Denver Broncos and Chicago Bears over the past few years. But after the team's bye week, he seemingly fell off and had difficulty keeping up with his assignments.
If that's injury-related, a healthy Callahan could be a big asset – he's above average among starters at nickel. If not, then his knowledge and experience could still be useful to the young starters on the roster.
EDGE Melvin Ingram
It's always a bit surprising to see Melvin Ingram as an available free agent in the summer, but it's happened nearly every year since he left the Chargers. Nevertheless, he's found ways to produce. At 34 years old, it might be difficult to see that happening one more time, but he's a risk worth taking.
Last year, Ingram took up $3.9 million worth of cap space from the Miami Dolphins and cost the Kansas City Chiefs and Pittsburgh Steelers a combined $4 million in cap space in 2021 (after accounting for the void year the Steelers added to his contract).
Long story short, Ingram wouldn't stress the cap and has been more than capable as a supplementary rusher.
RB Ezekiel Elliott
After signing a big contract with the Dallas Cowboys, Ezekiel Elliott was cut by the team in favor of Tony Pollard. Zeke played well for most of the season but seemed to fade as the season wore on – perhaps a product of the knee sprain he suffered against the Detroit Lions in Week 7.
His yards per carry dropped off by half a yard after the injury, and his overall effectiveness in breaking tackles, finding open lanes, and exploding for big gains all declined. If his knee has healed, he could still be a very capable back that does more than what Mattison could.
WR Jarvis Landry
The Vikings don't know if they have a capable receiver in rookie Jordan Addison yet but would be in a difficult spot if they invested in a receiver that would demand starting snaps like DeAndre Hopkins. But someone like Jarvis Landry could rotate in and out with K.J. Osborn and Addison and provide a floor in receiver ability.
Despite the talent that Justin Jefferson has, Landry would become the receiver with the best hands on the roster. That kind of reliability would be massive on third down, providing the Vikings with multiple contested catch options in tight coverage and an underneath threat that could free up Jefferson and Addison to go deep.
EDGE Trey Flowers
Trey Flowers hasn't had much success since leaving the New England Patriots, and an injury last year cut short a potential comeback season with the Dolphins. But he has experience in this style of defense and can play a variety of roles up front.
Even if he's no longer considered a high-level producer – though the possibility that he can reach such a level still exists – he would immediately improve the third-down package and the overall depth of Minnesota's defense.
RB Leonard Fournette
Leonard Fournette isn't exactly like Hunt or Elliott – two established high-level RBs that would moonlight as a committee player. Fournette has always been capable but not as versatile as the other two. Nevertheless, he would play a role in the Vikings' offense as a between-the-tackles back that could still generate some explosives – something that might be sorely missing from an offense featuring Mattison.
Fournette never had the agility to be a complete back, but his ability still draws defenses in. And he still has the speed and power to punish light boxes.